Article Subfornitura News – September 2020 – No. 4
16 March 2021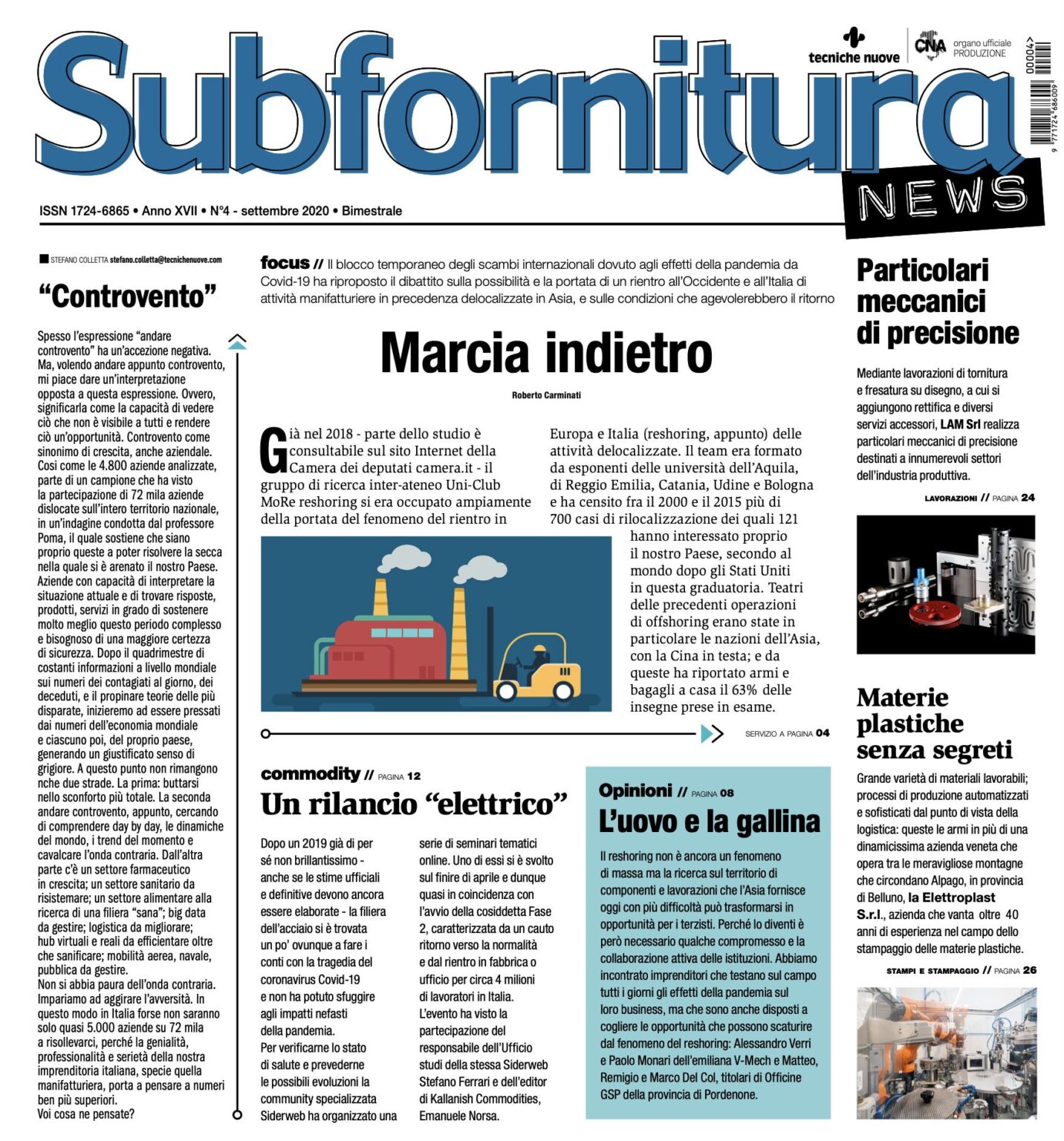 Support for the development of FOREIGN MARKETS
The Mission of Europass is to help Italian companies, which are active in the mechanical subcontracting industry to grow commercially by leading them to operate successfully in foreign markets.
Through various channels, Europass is already at the forefront of foreign markets – mainly Germany, Austria, Switzerland, the Netherlands, Belgium, France, and Sweden – to bring together clients and subcontractors.
Founded with the aim of supporting Italian companies in the mechanical subcontracting industry to develop their business in foreign markets, Europass Srl has been focusing its business for over 20 years on the commercial expansion of these companies' export sector. 'Our mission', comments Davide Perin, director of Europass, 'is to enable these companies to grow commercially, leading them to operate successfully in foreign markets. Our extensive experience has won us an in-depth knowledge of mechanical subcontracting, which is our exclusive focus. Over the years we have thus had the opportunity to greatly enrich our expertise in relation to the Italian production companies in this sector and their potential customers abroad'.
A bespoke approach
The activities of Europass, which are aimed at medium-sized subcontractors, involves various operational dynamics. 'We must first get to know the client company in depth', explains Davide Perin, 'analysing every aspect and taking stock of the current situation with regard to the client's machinery, production capacity and technical strenghts. We need to develop a perfect understanding of what the company is able to offer to its potential foreign clients, but also what its objectives are and whether there are exhisting internal strategies or specific issues to consider, perhaps with regard to the development of  specific sectors and/or markets. After this first phase, we identify and develop the most appropriate solutions for that particular client.'
In most cases, these are companies that operate only inside the region and which require a 360° intervention to be led to adequately address foreign markets, but there are also more structured companies that have not yet dedicated themselves to export. 'We are looking for the ideal client for the company that we are promoting. Our job consists of putting two realities together: matching the right customer to the right subcontractor,' says Davide Perin, director of Europass.
Relationships matter
But how does Europass find clients for its customers? 'We naturally have a portfolio of foreign companies that we already know and a network of firmly established relationships in many sectors,' observes Davide Perin, 'and in fact this is our exclusive and most valuable asset. Europass clients naturally benefit from access to this unique asset. Our main activity is therefore to use this knowledge and these connections to identify the ideal client for subcontractor we are promoting. Our job is to find the right customer for the right subcontractor, bringing these two realities together. We obtain this result through extensive, in-depth analysis of the foreign countries of destination to arrive at an understanding of the sectors and characteristics of the companies that correspond to our client's objective.
We also activate various marketing initiatives, both online and by telephone contact, as well as through targeted trade fairs or by organising specific B2B events.' There are therefore various channels through which Europass operates in foreign markets, which mainly concern Germany, Austria, Switzerland, the Netherlands, Belgium, France and Sweden. Thanks to its extensive network of activities, Europass has a detailed understangin of the operational scope of potential foreign clients, which enables it to distinguish those which make the most sense one for each particular supplier.
Trust and compatibility
The highly professional staff at Europass carries out extensive work along multiple vectors thanks to the specific skills each one has gained, supporting customers in all phases of a path that forges and consolidates relationships between all actors involved. 'Another important strength of ours,' underlines Davide Perin, 'is our ability to create loyal relationships both with our customers and with foreign buyers through the availability of a team that binds optimally with the structure of our customer on one hand and with the client on the other. The envirinment of trust and compatibility that is created in this way is fundamental to be able to work towards common shared results and objectives, generating solid relationships on both sides.' Among the various needs that Europass customers express, the aspiration to become 'less dependent' on their current customers is of particular importance. 'Let me explain: in the world of subcontracting, most small and medium-sized companies depend on a small number of customers, so there is a desire to expand this number, especially abroad, in order to diversify and therefore to achieve a greater contractual independence, but also because foreign markets are often more reliable.' What is relevant, moreover, is the request to focus on customers which are a good mathc fro the company's specific capabilities. This allows the company to showcase its specific added value and what precisely distinguishes it from others. 'This ideal match between our highly specialised client and their client abroad,' continues Davide Perin, 'requires a lot of time, vertical analysis and considerable effort. But this is the very challenge we relish: we excel in devising effective solutions for our clients' issues.'
Two companies, one goal
The excellent relationships that are froged between Europass and its clients subsequently continue along a natural path that can lead in two directions: the relationship can become permanent, with Europass providing ongoing commercial support relating to foreign markets, or companies may choose to organise themselves to continue their activities on their own once contacts have been initiated and the necessary experience has been acquired and assimilated. 'Whichever path unfolds, it is the natural evolution of all those relationships that always represents a source of great satisfaction for us.'
The foundation: shared objectives
At Europass, our operating philosophy in Europass is based on shared goals with our customers. In fact, a certain level of mutual understanding must be present to achieve success. 'If all the cogs turn well,' Davide Perin elaborates, 'everything turns out well. Once the goals have been set, we must all work in the same direction, without hitches, otherwise time gets wasted. We strive to lay the groundwork for our clients to be able to work with us in unison, who understand this vision and share it. Europass has in fact modernised the classic supplier-customer relationship in favour of a teamwork approach, as this provides he greatest benefit for the customer. Our workis complex and laborious, and thus reaps the best results when we have the full cooperation of our customer in order to achieve our defined goals, not only in terms of sales, but also in production performance. We therefore nurture the collaborative aspect and assess its potential from the outset to determine whwther the client company's outlook is favourable to sharing a path of growth and improvement, whether they truly possess the drive to be competitive and to best orchestrate the strenghts of each and every member of the team.'
EUROPASS UNDERSTANDS THE OPERATIONAL SCOPE OF POTENTIAL FOREIGN CUSTOMERS, ENABLING US TO ZERO IN ON THE RIGHT CUSTOMERS FOR YOU.